THE MENTAL MASTERY PROGRAM
I am really passionate about this program; working with High School and Collegiate athletes and helping them learn the whole game, all aspects of the game! In this program, unlike the typical, usual way of instruction- Where you just hit balls and chip or put, I also teach the athlete how to deal with the common obstacles of competition; Fear, doubt, pressure, anger, trying hard to be perfect…. We practice training smart be a tough competitor. And that way training smart means Physical training and also Mental and Emotional training. Handling these other areas well will be the thing that has you get to a whole different level of performance!
As a professional golfer on the LPGA tour for 14 years, and now a part-time player on  the senior tour, my life has been about trying to learn and refine these skills. I feel it's where my expertise lies  I've lived it, I've studied it, and I've watched it over and over. You need to educate yourself in these areas to get your potential to come through.
I've taken for granted all the great drills and lessons I've learned from the best coaches in the world. Sadly, I know it's NOT how most young athletes are trained. You can't talk about performance without talking about how an athlete deals with pressure, anger, fear; Fear of them failing or fear of how they look, or fear of If They're NOT Doing It Right!  These things are huge! Our whole bodies change when we get fearful and tense and try to hard. First you need to learn how…. when you're feeling those feelings… to let go and relax and learn how to trust. Then, you need to practice that!  And that is what we do in this program!  We use plastic golfballs and simulate playing  shots in a tournament. We put, we do putting drills and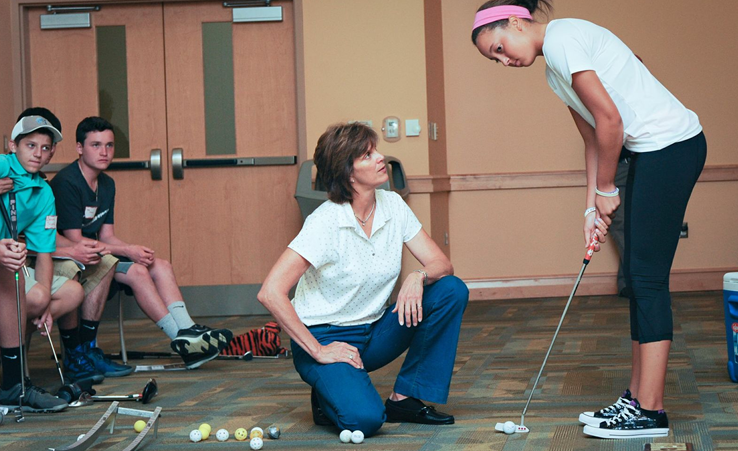 chipping drills. we learn how to most effectively learn our mechanics. We simulate taking a lesson from our coach and practice communicating to get what we need. And, we look to see where – we are not being coachable!  Don't bust your butts for years working hard without addressing this other half of the game! It's so important!
I've had collegiate golf teams, high school golf teams and then also everything from Irish dance groups to tennis clubs, to lacrosse players, wrestlers, swimmers, and soccer players take my program. My book, "The Mental Mastery Program", lays out all these conversations in a certain sequence and uses every day language you can understand. Then, when you're in the class, we practice and act  these principles out and bring them to life.
I had a journey in the world of professional sports and the pursuit of achievement and I loved that opportunity! I wish someone would've talk to me about these principles when I was 12, 16, or even 25 years old! Learn these lessons now. Don't get too frustrated with early disappointments and quit your game! It took me a while but fortunately I didn't quit and I learned so much about the subject and also about myself. And I feel privileged to be able to contribute what has taken me my whole career to learn! Read my book, or even better, come take my program! You can see the next program dates on this website or call and have your OWN TEAM have a program at your school. You'll be a lot more successful and happier in your game!
I'll look forward to helping you get to be where you want to be!
WHO CAN BENEFIT?

The Mental Mastery Program™ was developed by Missie Berteotti to benefit all student athletes in high school and college from ages 13-23. Both young and older students have used the program to great advantage. This program is not only for golf students, but for student athletes in any sport who need to learn these critical skills.
WHEN IS THE MENTAL MASTERY™ PROGRAM HELD?
 Winter/Spring Dates Start in January 2016 at Bianco School of Baseball!  
Classes have a minimum of 6 to 10 athletes. Ages are 12-17.
 First callers are confirmed in the class; 412-398-5030.  Learn the Mental Principles of the Mental Mastery Program and then we put the lessons into play by practicing hitting balls that day.  
 Check Young Guns page on this site for more information on the regular golf instructional classes. Those classes begin in April  and are 4 week programs.
Classes are held at Bianco School of Baseball   105 Springfield Drive  Canonsburg, Pa 15317  
WHAT IS THE INVESTMENT? 
The investment for the full  10- hour program is $380 and it includes the Athletes Booklet with all the drills listed in it. Consult with Missie to bring this Program to your team at your facility.  
Private Coaching is available one on one for the  Mental Mastery Principles.  10 hour blocks of coaching is the minimum time requirement for $850
WHAT IS COVERED IN THE PROGRAM?
Responsibility of your own learning

Confronting the fear of failure

How to stop worrying about "looking good" and forgive yourself

Learning how to be a coachable athlete

Understanding the importance of being confident and trusting yourself

Gaining perspective

Improving communication, both verbally and non-verbally
HOW DO I GET STARTED? THIS SOUNDS AWESOME!
Call 412-398-5030 to register to the program.  For additional questions, please send  an email to missieberteotti@gmail.com